Bogue Chitto State Park has been my happy place through the Covid pandemic. It's a little over an hour's drive from my house. I like to go first thing in the morning to hunt for Crowley's Ridge agates.
To the right is a photo of one of the lakes in the park. It was taken on a very cold morning of around 34° and the water was covered in steam fog.
Also to the right is the canoe drop- in area of Bogue Chitto State Park in Louisiana. I recently met a few family members for a socially distanced visit. It was quite a surprise to me when they found an interest in rockhounding. They found some lovelies for me. I was quite impressed with their keen eye for cool rocks!
There is really lots do do at this park! I'm partial to the rocks, but it is truly a park for just about everyone. There are lakes stocked with catfish and trout, a water park for kids, tubing down the river, a canoe put in area, tent and RV camping, cabins (both individual and group), mountain bike trails, equestrian trails (horses to rent), disk golf, and hiking trails.

I found myself with an empty tumbler this morning and decided to put some of my new rocks in for a spin in my 3lb barrel. Here they are pictured wet to show detail.

Here's a close-up of one of the agates we found. I love the banding. I think it will tumble well.
Lots of agates in these photos. There are also quartz "jellybeans" and chert.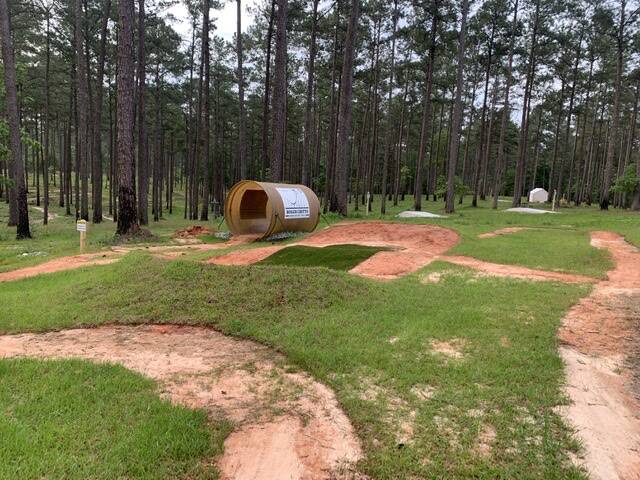 The park just added a series of mountain bike trails which are very popular. They range in difficulty so there is something for every level of skill. This is the kids' trail. It's perfect for the younger kids who want to get a taste of mountain biking.
The day use playground and water park gets a lot of use. There are lots of picnic tables and benches available. There a picnic pavilions available to rent as well. This area has nice bathroom facilities.
Comments
There are no comments yet.